This southwestern style inspired
1806 s.f.
custom residence creates the rustic appeal of adobe construction, by combining elegantly attractive and comfortable living with environmentally-friendly sustainable features. The
Design Concept
was a 'green' home on a limited budget and the result was our first five-star City of Austin Green Building rated home built by fellow Green Building member Robert Zirkel of Shelter Design and Construction. Read the C.O.A. '
case study
' about this exemplary home.
The stucco exterior complemented by native wood beautifully blends in with the preserved Texas landscape, and the large covered porch and arbour provide relaxed outdoor living which is warm and welcoming. Entering the foyer, one is struck but the cool, inviting atmosphere created by the light yet warm décor and tiled floors.
The foyer serves as an effective transition from private to public spaces, and the partially open-plan living areas provide an airy openness while effectively maintaining a demarcation between utility and living areas. The plastered walls are cool and practical and the interior décor and wood features including dramatically craved ornamentation provide continuity between indoor and outdoor aesthetics.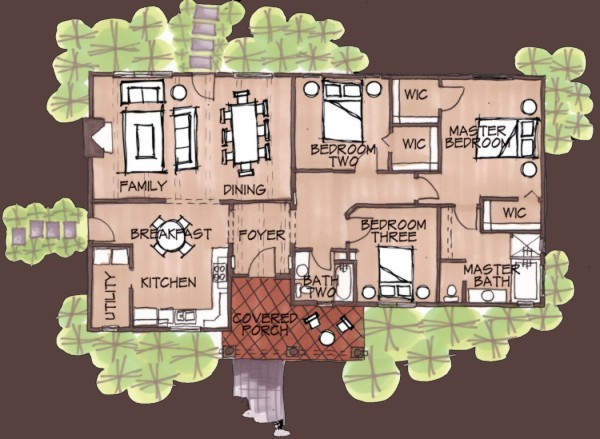 Floor Plan copyright Elliot Johnson, AIA
Positioned to capture ambient lighting, but to reduce heat absorption, this home provides a comfortable haven from the hot Texas sun, and guarantees energy and cost savings. The light color exterior, 2x6 walls, Low-E wood windows, "Total fill" and duct insulation, a 2-phase high efficiency air conditioner and ceiling fans ensure this is achieved.

Additional energy and cost savings are provided by on-demand water heating, and as water conservation is vitally important, especially in drought-prone areas, a 20,000 gallon rainwater harvesting system, low-flow shower heads, and low water-use dishwasher responsibly and economically address this environmental imperative.