First Floor - 1370 s.f.
Second Floor - 771 s.f.
Existing - 1015 s.f.
Total - 3156 s.f.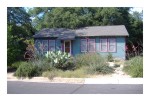 An adaptive reuse of a 1930's
1350 s.f.
home in the central Zilker Park Neighborhood as a mother-inlaw residence, with the addition of an 2141 s.f. main residence.

The clients, Steve + Darcy Bontempo, chose to work with me after hearing my
Design Concept
of retaining the original house rather than removing it. This house was well suited to being a mother-inlaw plan, but needed to be downsized a little to allow for a slightly larger main house.

Although the clients were on a very tight budget, we encouraged them to include features that they wanted, and then to work with us and the builder to assure that their project maintained their budget.

The design of the home was challenging, due to the City of Austin Mcmansion Oridnance, the original residence, could no longer have a kitchen, as that would qualify it as a duplex.