Rose Window
click on image to enlarge
Created by Lisa Chronister, my wife, this window was intended as a visual pun. In art and architecture the term "rose window" refers to the element of a Gothic cathedral placed over the door or in the transept ends. Its circular shape, geometric segments and tracery gave it a multi-petaled look eventually leading to it being named after the English rose. In churches, the design was always religious oriented, with images of apostles, prophets, saints, angels in various Christian themes.
The general, shape of this window most closely resembles that of the rose window in Beverley Minster, Beverley, East Riding of Yorkshire, England from the 18th century.
Great Room Doors
click on images to enlarge
Lisa was looking for something simple, elegant and sort of Irish for these doors. The bevel designs in the four doors are called a claddagh, a traditional Irish ring given as a token of love, originating in the Irish fishing village of the same name and first produced in the 17th century. It is a pair of hands holding a heart, surmounted by a crown. The bevel elements in the two transoms are also traditional Celtic knots, a decorative motif that dates back almost 2,000 years. She picked the red to complement the furniture upholstery and the diamond shape to co-ordinate with the Gothic windows.
Dining Room Windows
click on image to enlarge
Originally we did not know what to do with these windows beyond Tudor architectural diamond shape, until we saw the movie Elizabeth I. In it the queen was portrayed sitting on her throne surrounded by ladies in waiting with a backdrop of stained glass in just this style. Immediately we knew we had to have that for our windows and after pausing the movie, we painstakingly counted the number of colored verses clear windowpanes to ensure we got the ratio correct.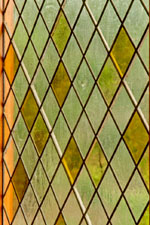 Front Door
click on images to enlarge
This was one of the first large pieces Lisa made. It was completed shortly after we moved into phase one of the house. It is loosely based on a Louis Comfort Tiffany window of wisteria vines and mountains. In the foreground is a grape vine wrapped around a trellis, with leaves and grape bunches made of purple "jewels."